Eliminating the partners of cancer
01/31/2023
Elmar Wolf has been on the hunt for new therapies for a type of pancreatic cancer and has been awarded a two million euro ERC Consolidator Grant for this.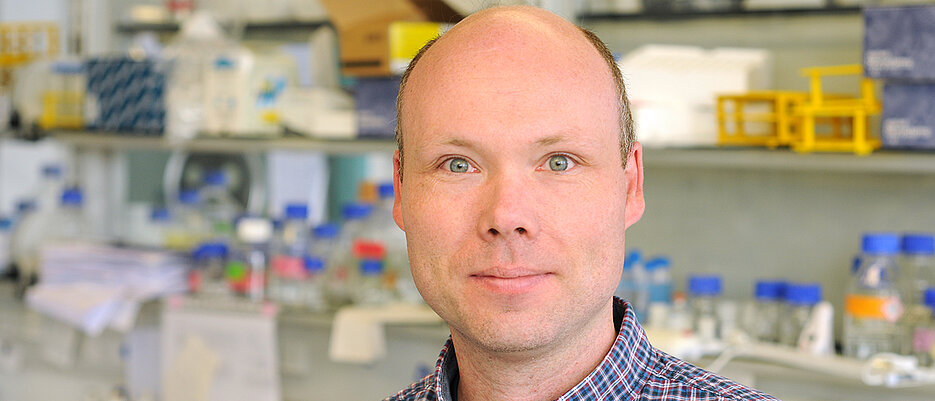 A Starting Grant in 2017, now a Consolidator Grant: Elmar Wolf has now raised several million euros in third-party funding for his research projects. (Image: Gunnar Bartsch / Universität Würzburg)
The "Pancreatic ductal adenocarcinoma" (PDAC) is by far the most common form of cancer of the pancreas. PDAC tumors have an extremely poor prognosis because of several reasons. The tumors only become noticeable at a late stage; they tend to form metastases quickly; the chemotherapeutic drugs that are usually used cause severe side effects, and most patients quickly develop resistance to them. So, it is no wonder that the mortality rate for PDAC, unlike many other cancers, has not improved in recent years. In fact, the chances of cure for the approximately 14,000 new cases registered per year in Germany are still low: only about ten percent of all patients are still alive five years after the initial diagnosis. Elmar Wolf has set a goal of changing this.
A promising career
The cancer researcher is a Professor of Tumor Systems Biology at the Department of Biochemistry and Molecular Biology at the Julius-Maximilians-Universität Würzburg (JMU). The focus of his new research project is the development of new therapies against pancreatic cancer, which has now been approved by the European Research Council (ERC). The endowed ERC Consolidator Grant of around two million euros will enable him to advance this research over the next five years. The ERC awards a Consolidator Grant to outstanding scientists with a promising career.
Shredding the cancer proteins
Wolf's project focuses on PROTACs (proteolysis targeting chimeras). These are small molecules that bind to target proteins and feed them into the cellular degradation machinery - a kind of "shredder" inside the cell. If cancer cells absolutely need these target proteins to survive, PROTAC could be a perfect cancer drug.
Wolf and his team have already carried out the relevant preliminary work: "We have identified a number of target molecules that are absolutely necessary for the growth of cancer cells in pancreatic cancer," the scientist explains. In addition, the research group has already developed numerous PROTACs for a number of cancer types in the past, gaining deep insights into the underlying design principles and synthesis procedures. "And last but not least, we have established genetic models in mice to simulate the function of our PROTACs and discover further targets," says Wolf.
Wolf is confident that with the help of the financial support of the ERC grant, he will succeed in developing compounds that degrade important proteins needed by cancer cells to survive and divide. This would enable them to inhibit the growth of pancreatic tumors in healthy tissue - with comparatively few side effects.
About the person
Elmar Wolf (42) studied human biology at the University of Marburg from 2000 to 2005. He submitted his doctoral thesis in 2010 at the Max Planck Institute for Biophysical Chemistry in Göttingen. From July 2010 to 2015, Wolf conducted research as a postdoc under the supervision of Professor Martin Eilers at the Department of Biochemistry and Molecular Biology at the University of Würzburg. Since 2016, Wolf is head of his own research group, and since October 2020 he is Professor of Tumor Systems Biology at the Chair of Biochemistry and Molecular Biology at JMU.
Elmar Wolf has been successful with his application to the ERC for the second time. In 2017, he received a "Starting Grant" endowed with around 1.5 million euros. This research project was about understanding the molecular basis of cancer.
Wolf has also received several awards for his work. In January 2016, the German Research Foundation (DFG) approved his application to establish an Emmy Noether Junior Research Group, and with it research funding of 1.2 million euros, spread over five years. In May 2016, Wolf received the Röntgen Prize. Every year, the University and the Universitätsbund Würzburg award this prize to outstanding young Würzburg scientists.
Contact
Prof. Dr. Elmar Wolf, Chair of Biochemistry and Molecular Biology, T: +49 931 31-83259, elmar.wolf@biozentrum.uni-wuerzburg.de